Onair International is Italy's leading, best-known private jet brokerage and operates on a national and international scale. It arranges executive flights all over the globe, dedicating great attention and care to each detail so as to offer its clients a safe, comfortable flight.
The Onair International staff has vast experience acquired in the sector since the 1960s, at the very beginning of executive aviation.
Founded in 2001, the company believes in and has contributed significantly to the growth, development, success and expansion of this kind of business.
Today, Onair is steadily active in the civil aviation market and boasts top-notch expertise, efficiency, flexibility and attention.
We take people to any destination while caring for their wishes.
We use each experience with our passengers as a way to improve the service we offer by remembering personal tastes and preferences.
We analyze and outline the best possible itinerary for our clients. We search for and propose the most convenient solutions for the requested journey, be it for business or pleasure, all with the greatest possible safety and comfort.
Private Jet Brokerage
We provide national and international flights for all those who need or wish to enjoy the pleasure of a private flight.
We select and propose the finest aircraft in the vicinity of the departure and arrival locations thus optimizing resources and offering competitive prices.
The fleet is our pride and joy. Composed of over 3,300 aircraft distributed around the globe and belonging to the certified air carriers, we have selected, it includes executive jets, executive jet, charter airliner, cargo and helicopters, which are always available and meet the highest standards of safety and comfort.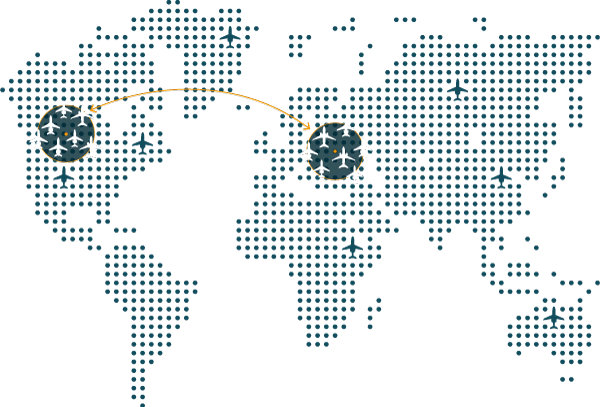 The pleasure of a private flight
A plane dedicated entirely to you is ideal for those who need to work or rest in the greatest comfort even while traveling, with the assurance of enjoying a safe flight and having at your disposal a highly qualified crew.
The freedom to choose schedules and destinations, that might not be covered by airlines makes this kind of travel an extremely flexible solution, especially for:

  those who need to travel to numerous destinations while optimizing time and costs or need to conduct roadshows that would otherwise be difficult or impossible to organize;

  companies who wish to transport several passengers at the same time for meetings, conventions or other events;

  those who need to return quickly and safely from foreign locations in critical situations or emergencies;

  those who dream of giving someone an unforgettable gift.
Aviation Consulting
We provide high-level professional consulting regarding technical, operational and economic assessments in the field of civil aviation.
Specifically, we deal with:

  buying and selling aircraft through in-depth studies and the search for the most appropriate craft, followed by negotiations with the manufacturer or seller;

  technical analyses to protect the buyer, together with external consultants when needed;

  preparation and fulfillment of all bureaucratic procedures and certifications in the various countries ;

  registration in the fleet of the carrier most suited to your needs;

  exclusive commercial management with the aim to cut costs;

  assessment and potential optimization of operating costs.
We ensure your safety
The aircraft in our fleet have been selected from among the finest airline companies present on the market. They're equipped following the strictest regulations, be they European JAR OPS 1/EASA or American FAR standards, and all have a public passenger transport license (AOC/COA).
For each flight we ensure your safety but also your privacy, handling your data with the utmost confidentiality to protect you and allow you to enjoy carefree travel.
Reserve your flight
For information and flight requests we're available 24/7 by way of:

  Phone:: +39 02 70200907

  Emaill: info@onairinternational.com

  Web: www.onairinternational.com
The Onair International team will promptly verify the feasibility of the flight and the availability of the aircraft, providing you with a detailed estimate of the costs and conditions of the offer, including flight programs, crew data and any other necessary technical specifications. 
Members
---

Onair International S.r.l.
Linate Airport – General Aviation Terminal
Milano Linate Prime
Viale dell'Aviazione 65 – 20138 Milan, Italy
P.IVA e C.F. IT03249260963